Introduction
Documatic is a free, open-source, participatory, android-based, mobile shooting assistant, and pre-editor. I have created this program to lay the basic groundwork for the larger concept of "semi-automatic filmmaking" as part of my Master's Thesis in Digital Media at Georgia Tech. It is also the winner of the James Dean Young Award for Oustanding Project.
Embedded below is a short video overview describing the purpose, and functionality, goals and extensions for Documatic.
Overview
This project grew from both a desire to aid small budget and beginning filmmakers, and to bring the process of filmmaking into the digital world. Even though the advent of digital video recording devices has opened the doors to many small-scale filmmakers by greatly reducing the costs associated with capturing and manipulating moving images, the legacy production practices developed by analog filmakers persist through the medium.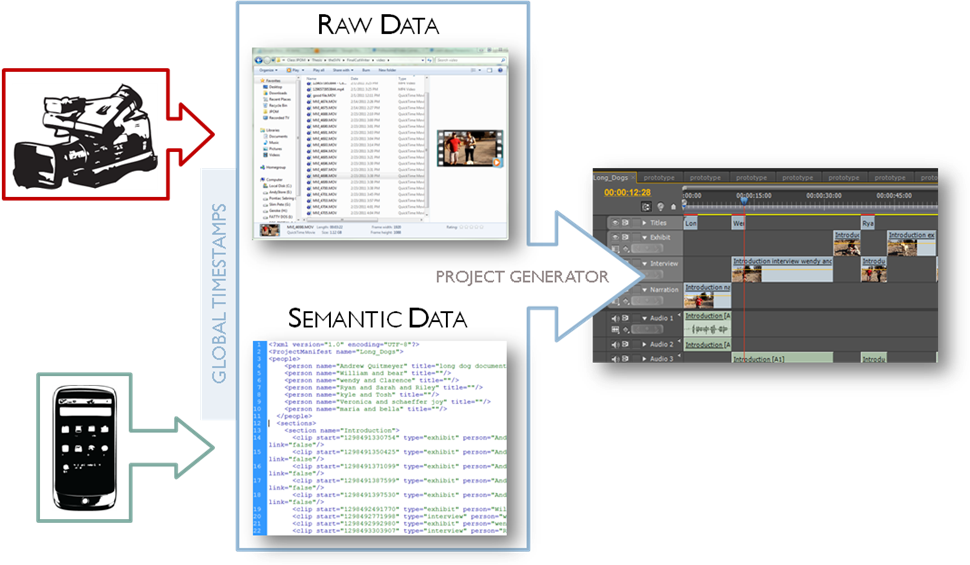 The basic principles of Documatic, and Semi-Automatic Filmmaking, in general, are that, instead of gathering tons of footage with a video camera, and then later meticulously sorting and organizing in a separate editing stage, you can use an Android device to roughly annotate and organize the video clips as they are being recorded. Then later, the system combines these annotations with the raw footage and intelligently organizes and "pre-edits" the footage into an Adobe Premiere Sequence.
Participate
To make your own semi-automatic Documentary, you can learn how to use Documatic at this instructable:
If you would like to donate money towards development, and get cool prizes in return, become at backer at our Kickstarter site:
If you would like to help develop code, please check out our repository: