One of the biggest barriers to creating a video is the need to learn complicated editing software. If a person wants to express their views on current issues in a visual manner, it is a complicated process involving much technical knowledge of shooting, editing, and producing the video. This system gives the users a limited vocabulary with which to discuss articulated issues with each other that they are passionate about in the form of a Video Editorial.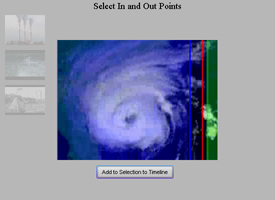 This project removes many of the technical barriers to video making by aggregating news headlines, related images, and video from various news sources, and a library of music. Using these tools, users will be able to arrange this media and add in original voiceovers to present their stance of the issue that they choose. The system eliminates further complexities from the system by guiding the user through the process of selecting a topic, arranging footage and images, and adding music and voiceover.
The interaction will take place through a Wiimote. This method is analogous to the experience most users have watching television by providing simple, hand-held interaction.