Monday, September 24th, 2012
The Otamatone is a device art object by the Japanese artist Mazwa Denki. It is a musical-note shaped singing toy which requires two hands to be played: one hand controls the pitch by sliding one finger up and down the stem, the other holds and squeezes the head.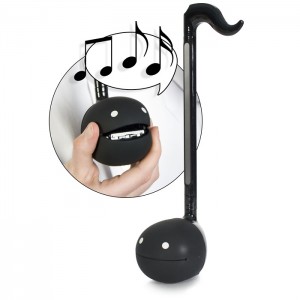 The design of this device art object is already making a statement for the connection between musical expressivity and the communication features inscribed in it. The Otamatone Oracle is celebrating and consequently extending this idea, by offering a translation of the predictions made using this device.
The interactor is asked to express his current feelings and personality by using this very easy to handle and highly expressive musical device. Since the Otamatone is hacked and hooked up to an Arduino board, the way in which it's played generates a poem. It becomes a digital oracle between oral and written poetry.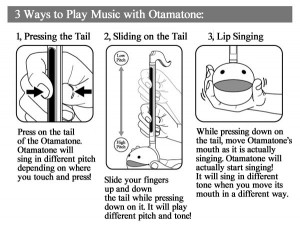 This way the user does not only get a reason to become a musican, but also generates a personal piece of literature, which is in direct relationship with his personality and expressivity. The predictions will be on display together with the recorded music for the time the Otamatone Oracle is in town. And yes it is possible to write books by consulting the Otamatone Oracle.
Examples of poems generated by the Otamatone Oracle:
"Oh how I love you squealing
It sounds so utterly appealing
Make I stop before I drop"
"Silence
American
Juice
Migrane
Opera
Vibrato
ducks
sonar
flatline
two"
"Food
Ghost
Lives My socks
Socks
Sucks!
Holy Tomatoes
in grocery town
hippy Flopping Berger
Benz"
"casserole cows are
being strangled
by the ducks that
hide in the trough!
who's laughting
now? silence"
"problems help
snake charmer
menace
ambulance
neerst monitor"
"O ili
yusuuuu
veally
veally
veally
iiiiiiiiii
v
v
it ate
tate
tate
t tt t
e
e"