Mini update from TEI: some invited presentations that look like craft
February 12th, 2013 By
Michael Nitsche
There are some presentations over here at TEI 2013 that kind of touch on craft. One is Movement Crafter
The movement crafter attempts to reconcile the pace of new technologies with traditional crafting activities that are performed as pastimes. The project explores concepts of quiet communication and technology hybrids and attempts to support crafting without making the craftsperson overly selfconscious of their practice.
What it does is tracking the movements of two pairs of knitting needles and visualizing it. When I tried it only one of the two stations worked and it was not too precise. But it kind of relates to the handiwork concept from Ashton.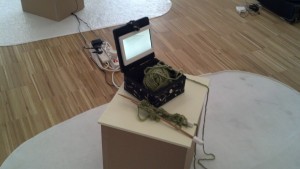 Another art project deals with the special ink that changes visibility under changing heat.
Transience is the Japanese calligraphy work with dynamic color changes. The scene where the letter colors are changing from moment to moment can give af"uent dynamism and feeling of vitality of calligraphy to viewers, and at the same time, it can express stream of time. Calligraphy is integrated with technology and materials seamlessly and Transience is produced to show ever-changing aesthetics fermented in Japan. In order to change letter colors on paper, we developed our original chromogenic mechanism from functional inks and conductive materials. For producing the chromogenic technology suitable for paper, we examined ink materials repeatedly, and as a result we realized the expression where calligraphy harmonizes with computer.
It was beautiful to see the change of the ink over time – but mainly because the lettering looked so good. Paint Pulse was definitely more ambitious.